This Christmas party invitation features a Victorian Santa on the front and party information on the back, which can be customized by the sender.
Contrary to what many believe, Santa Claus as we know him today–sleigh riding, gift-giving, rotund and white bearded with his distinctive red suit trimmed with white fur–was not the creation of the Coca Cola Company. Although their Christmas advertising campaigns of the 1930s and 40s were key to popularising the image, Santa can be seen in his modern form decades before Coca Cola's illustrator Haddon Sundblom got to work. Prior to settling on his famed red garb and jolly bearded countenance, throughout the latter half of the 19th century, Santa morphed through a variety of different looks. From the description given in Clement Moore's A Visit from St Nicholas in 1822, through the vision of artist Thomas Nast, and later Norman Rockwell, Mr Claus gradually shed his various guises and became the jolly red-suited Santa we know today.
13TH Century
The name Santa Claus has his roots in the informal Dutch name for St. Nicholas, Sinterklaas (an abbreviation of Sint Nikolaas). St. Nicholas was a historic 4th-century Greek saint (from an area now in modern day Turkey) who had a reputation for secret gift-giving, such as putting coins in the shoes left out for him. He was also famous for presenting the three impoverished daughters of a pious Christian with dowries so that they would not have to become prostitutes.
Being the patron saint of children St. Nicholas has long been associated with giving gifts to children. The parallels to the modern day Santa Claus don't end there. In his Dutch form of Sinterklaas he was imagined to carry a staff, ride above the rooftops (on a huge white horse) and have mischievous helpers who listened at chimneys to find out whether children were being bad or good. These features all also link him to the legend of Odin, a god who was worshipped among the Germanic peoples in North and Western Europe prior to Christianization.
Although in Europe the feast of St. Nicholas, typically on the 6th December, was very popular throughout the middle ages, after the reformation in the 16th century the celebration died out in most Protestant countries, apart from Holland where the celebration of Sinterklaas lived on.
1863
As time went by, more and more was added to the Santa Claus legend. The cartoonist Thomas Nast established the bounds for Santa Claus' current look with an initial illustration in an 1863 issue of Harper's Weekly, as part of a large illustration titled A Christmas Furlough.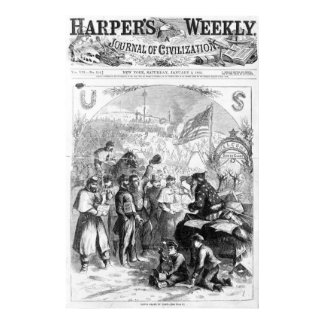 Santa Claus Visits the Troops Poster
by
Dividenda
View another
fine art print
at zazzle
From a January 1863 Harper's Weekly. This image is also one of the earliest depictions of Santa Claus.
Christmas Gifts and Party Supplies
[ezp grid_width="888″ grid_cell_size="medium" grid_cell_spacing="30″ num_items="8″ default_sort="date_created" store_name="holidayplanet" search_term="christmas" randomize="true" associate_id=238056276830704041]