Looking for a lovely way to add flair to your look? Nail art can complement your outfit for a special event or provide a unique way to express your personality every day. While very detailed nail art is best left to professionals, there are a number of designs you can create yourself. Try duotones, glitter and jewels, polka dots, blended colors, marbling or stamping to create a stunning effect.
Did you know that you can buy customized nail art online? Zazzle, partnering with the Minx nail decal makers, has added nail art to their ever-expanding line of photograpy embellished gifts. The Zazzle cadre of artists have created a unique assortment of nail wraps you can customize and purchase. Personalize a fingernail decal for yourself, or for family and friends.
My favorite nail design is the steampunk style Gears and Pipes. But there is a wide variety to suit any tastes or occasion–from abstract designs, geometric patterns, holiday themes, photo-realistic images, even flags!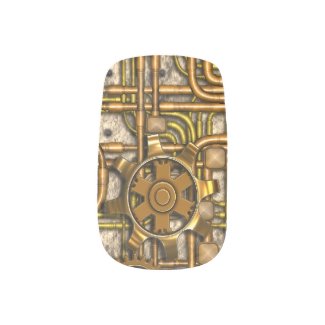 Steampunk Panel – Gears and Pipes – Brass Fingernail Decals
by
BonniePhantasm
View Steampunk Minx Nails online at
zazzle
Nail Art